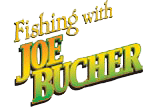 2017    SHOW SYNOPSIS (full format on WFN, FSN and MOTV)
Episode 1: Close Quarter Battle Tips, Tinbuck Jr debut, Breakline Bronzebacks, The Return of Big Bass Bichanich, Bluebird Musky Trick.
Episode 2:  Chokin' Up On The Rod,  Busy Boat Traffic Lake Muskies, Ultra-Finesse Jig & Grub, Busy Boat Traffic Muskies II.
Episode 3:  Boatside Bruiser Pike, Late Fall Timber Muskies, The 3Bs, Small Baits Really Can Catch BIG Muskies!
Episode 4:   Coldwater Crankin', Downsizing Topwater Musky, Grub Rigging Tips from Big Bass B, Reach Out & Crush 'em!
Episode 5:   Black Bottom Bay Bass, Target Wind Blown Spots, Shaky Jiggin', Downsizing To Seal The Deal On Musky Follows.
Episode 6:   Swim Jiggin', Satellite Muskies, Stand-up Tube Secret, Fish Your Best Spot At Last Light.
Episode 7:   Take Advantage Of Strong Winds, Cold Front Trigger Baits, Windy Day Drop Shot Bass, Tick The Rocks For Tough Bite Muskies
Episode 8:   Blind Figure 8 Strike!, Out-Of-Tune Musky, The Wack-O Jig & Wack-O Worm is DEADLY!, Get Out Of The Big Blow!
Episode 9:  Speed Scout Windy Day Bass, Sight Fishing With The Eye Doc, Hang Time Musky
Episode 10: Stand-Up Tube Secret, The Hunchback Comeback Musky, Deep Wacky Bassin', Last Light Lenny
Episode 11:  The Game Of Finesse,  The Scrapper Musky, Swim Jig 101, FumbleNetski Muskie
Episode 12:   Drop Shot Dynamite, Gliders In Cold Fronts, Brutus The Barber,  Muskie-Zilla!
Episode 13:   Legend Glass Bass, Wolfpack Muskies, Killer Cold Front Baits, Monster At Moonrise!