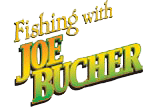 2018    SHOW SYNOPSIS
Episode 1:  3 Mini Muskateers, Prespawn Swim Jiggin' Flats For Bass, Dude Approved Skills.
Episode 2:   Last Light Surprise , Deep Wacky Smallies, A Secret Castback Trick Revealed.
Episode 3:   Mid Day Topwater Tactics, Off-shore Spinnerbait Bass, Tag Teamin' To Seal The Deal.
Episode 4:   Windy Coldfront Pike, Pitchin' Dock Bass, Raise Em On One, Catch Em On Another.
Episode 5:    A Cold Front Reef Crankin Trick, Hour Glass Bass, Toe-To-Toe With A Bruiser.
Episode 6:    Sweet Musky, Black Bottom Bay Bass, Zig Zag Topwater Muskies.
Episode 7:    October Minnow Bait Muskies, Cribs, Bass & Swim Jigs, Spying Cruiser Muskies.
Episode 8:   Figure 8s & Big Pike,  Dude Bassin', The Eclipse Titan.
Episode 9:   A Tried & True Coldfront Tactic, Off-Shore Pencil Grass Bass, Moonrise & One Last Spot.
Episode 10:   High Winds & Cove Pike, Big Structure & Bronzebacks, Cover Tight Topwater Muskies
Episode 11:   October Weed Clump Muskies, Swim Jig Brushpile Bass, Boatside Bruiser Musky
Episode 12:   Big cranks & Night Walleyes, Off-Shore Reef Smallies, Rock Wall GlideRaider Muskies.
Episode 13:   October Minnow Bait Muskies, Shallow Cover Bassin, The Hunt For Goliath