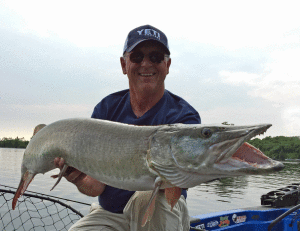 Hall Of Fame Angler – Joe Bucher was inducted into the National Freshwater Fishing Hall Of Fame in 2000 as a Legendary Angler.  Considered by his peers to be one of the top multi-species anglers in the business and a master of a wide variety of techniques.
Writer –  Joe Bucher founded Musky Hunter Magazine and still writes for them as well as The Outdoor News and Midwest Outdoors on a regular basis.   He is also the author of several books on various aspects of fishing.
Show Host – Fishing With Joe Bucher series enters its 31st filming season as a multi-award winning outdoor program hosted by one of the Midwest's most popular anglers.
Musician  – Joe writes and produces all the instrumental background music on his TV show, and is an accomplished multi-dimensional guitarist.