24/7/365 fishing shows.  Best fishing channel on_TV.   The long term home of FWJB.  Starting 1st week in January.   
DISH Network:  channel 394                    Charter:   channel 313           Comcast:  channel 76
Tuesday:   8:30 pm ET
Wednesday 3:30 am ET
Saturday:  4:30 pm ET
All times are eastern standard time.

FSN is carried by just about every local & regional cable-company in the Great Lakes Region and is on Direct TV all over North America.
Direct TV: ch 668 & 669   DISH Network: ch 436  Charter:  ch 27  Comcast:  ch 963   TWC:  ch40
Saturday 11:30 am  CST   * only airs the 1st Quarter
TV 12 – northern WI NBC_station airs FWJB on 12:30 am Sunday nights.   
On-Line – Check out Joe's new on-line You Tube channel joebucher.com airing classic segments in a short format.  No commmercials. Click the on-line hyper link here and go directly to our you tube channel!

– MyOutdoorTV.com on-demand.  Click the MOTV icon for info.  A Netflix style outdoor station!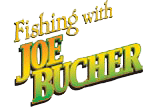 Our own worldwide youTube channel!   Click the icon to take your there!  FWJB 24/7/365!!!