Awesome quality.  Fantastic detail.   Designed and built by master boat craftsman John Johnson.  Wisconsin made in Iola.   New for 2015 is a 21′ model!

Evinrude E-Tec Outboards          *click You Tube link to see Joe's testimonial on E-Tec!
Joe Bucher exclusively runs Evinrude Outboards.   "I am so impressed with Evinrude's E-Tec Outboards.  Evinrude E-Tec Outboards feature lower maintenance, lighter weight, less fuel consumption, and the lowest emissions in the industry.  Check out their new G2 series which will literally set a new standard in outboard technology."

The official truck sponsor of FWJB!    Watch_for Joe Bucher hosted  commercials and in-stores promoting this great relationship.  Joe's been towing his boat with a Chevy-Truck over 25 years!  See the latest Joe Bucher-Chevy TV-spot!
https://www.youtube.com/watch?feature=player_embedded&v=g1HRK9-PYvo

Quality handcrafted  rods for over 50 years.   The best rods on earth!   St. Croix has been a sponsor  for nearly as long as the series has been on the air.  Joe fishes with the entire family of St. Croix rods on various shows and regularly features factory guests on episodes.  


For over fifty years, Frabill has been the recognized leader in the  industry for all livebait container needs and landing nets. They have an outstanding selection of bait containers, landing nets,  plus many other related items.   Joe Bucher exclusively uses Frabill landing nets for all types of angling situations.   Frabill has been a sponsor of FWJB for nearly as long as the series has been on the air.

A great American company featuring the finest tackle and gear boxes for all your outdoor needs.   Joe has owned and used Plano Tackleboxes and accessories since he was a boy.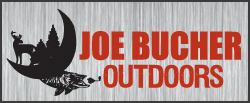 Joe & long time friend Ken Robinson combine efforts to create a great company to distribute and produce Joe's famous line of big gamefish lures & other tackle items.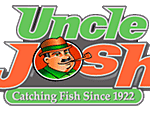 Joe Bucher grew up fishing pork on jigs, spinnerbaits and by themselves on a plain hook.  The new pork products from Uncle Josh are even better providing superior durability and toughness yet much more life-like.  Fish love 'em.   Watch FWJB You Tube videos and see for yourself how deadly these products are on all kinds of gamefish.  
                  A truly iconic brand of premium soft plastics featuring such names as the Lunker Grub, Syzmik Toad and many others.  Look for a weekly feature on these great soft plastics for big bass.  Check out their new Sizmic Grub and Sizmic Shad.   Joe caught his biggest WI largemouth this past season, a whopping 24 1/4′"er, on a Sizmic Shad while filming a TV segment.  His biggest smallmouth, a line class world record on 4 lb. test, also came on a Kalin product – The Western Weenie Worm.  

The Cooler You've Always Wanted.  That Last You Will Ever Need.   Wildly Stronger!   Keeps Ice Longer!   Joe has extensively tested these products.  They are incredible.

Our exclusive lodging partner on Lake Of The Woods!    Caters to fishermen of all kinds.   Best location on the lake.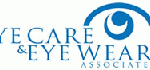 Joe's recommended source for all your eye-care and eye wear!

 Joe uses Fittante Taxidermy for all his fish and game mounts!